Simpler design for your everyday banking needs
We're updating HSBC Online Banking with a new look and enhanced features for an even better and easier banking experience:
a more comfortable interface to fit any screen sizes

a more intuitive navigation menu to pay and transfer money swiftly

more convenient filters to view your eStatements and eAdvices
Stay tuned for the upcoming enhancements!

Pay and transfer even faster
With a refreshed design and navigation menu, you can manage your transfers locally and globally without hassle. What's more? We've introduced some more enhancements to make your transfers even smoother: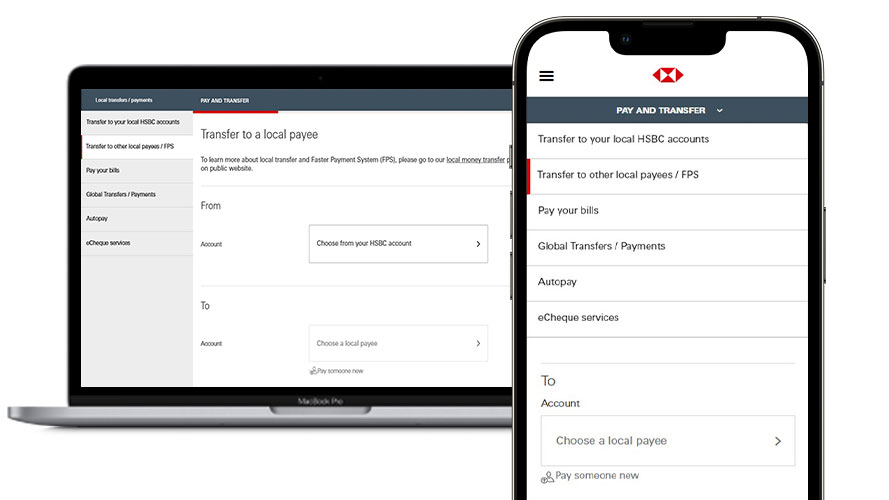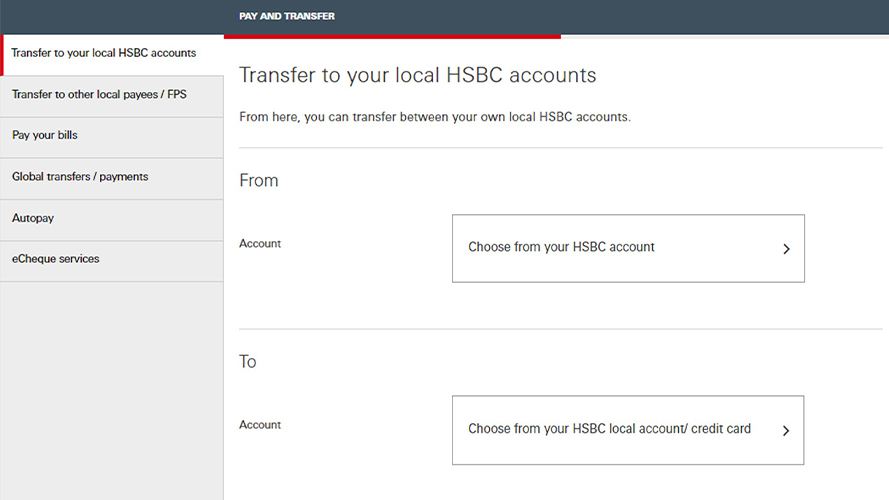 Transfer to your local HSBC accounts
You can transfer money between your HSBC accounts with just a few steps so you can manage your wealth easily and not miss any market opportunities:
locate your accounts easily with our new account search feature
choose to pay your full credit card statement balance, minimum payment, current amount due, or your own designated amount
Transfer to other local payees / FPS
Need to transfer to your family and friends? You can now make faster transfers online via their account number or Faster Payment System (FPS)!
Select your payment type, then directly input payee details as indicated
See your remaining transfer limit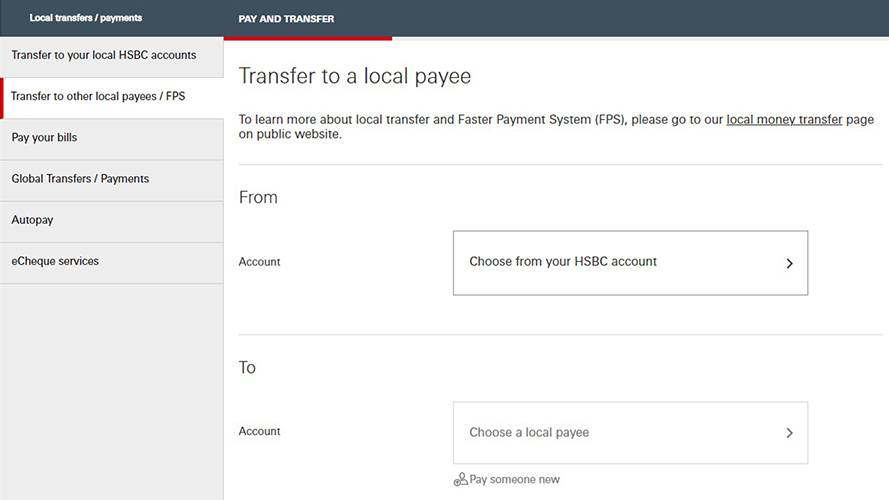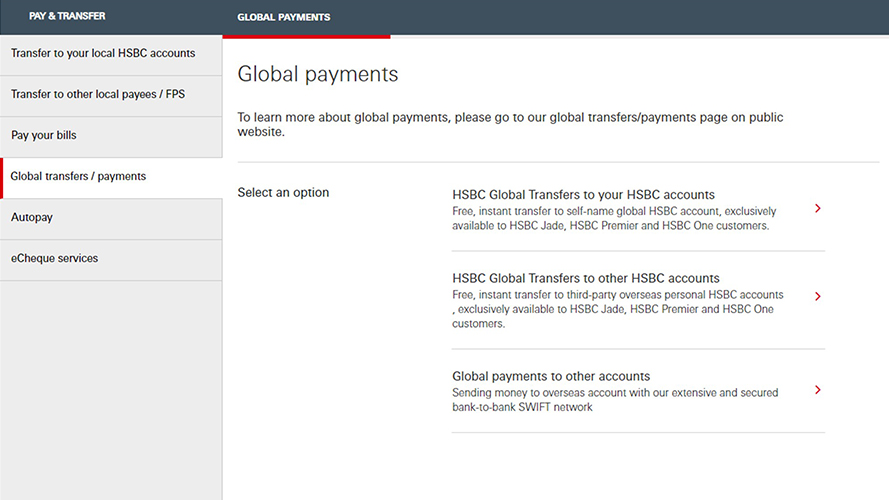 Global transfers / payments
You can now make your global payments more easily with the new menu:

choose between HSBC Global Transfers and Telegraphic Transfer by the receiving account type
simply put in the bank code, name or address in 'Bank search' field to search for the receiving overseas bank
eStatements & eAdvices
You can check all documents with the new filters, including up to 3 months of transaction advices, and eStatements from as far back as 7 years ago2
You can quickly identify the document needed by filtering account, document type and time period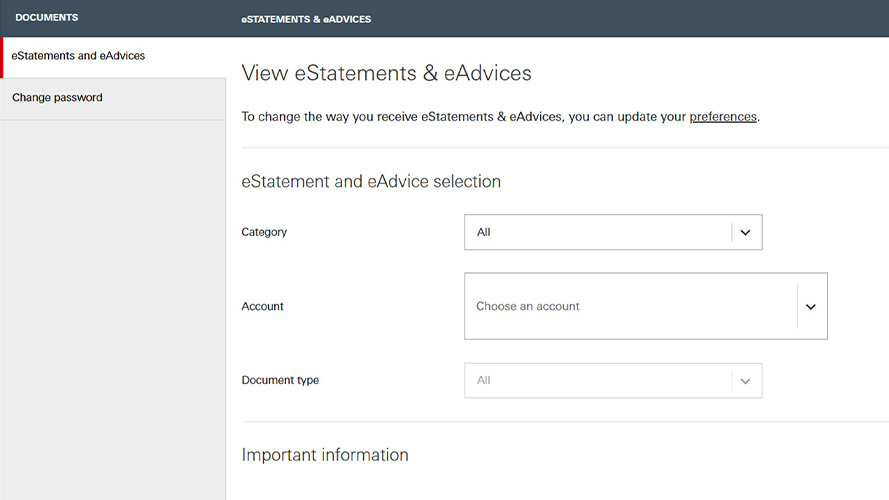 Frequently asked question
Why can't I see the new design and layout? Is there something I need to do?
I see a search bar when selecting accounts to make transfers from/to. What does this do?
How can I enter a new payee's details when making a third-party transfer?
How can I make a transfer to my own HSBC GBA Wealth Management Connect account?
How can I settle my HSBC credit card bill?
If I can't find the bank on the list, can I manually input it in the search bar?
Why can't I see all my saved payees?
Quick guide for online banking
(This guide will be updated as we roll out enhancements. If you have any questions, please reach out to us via 'Chat with us'.)

Finding your transactions
Need assistance?

Connect with us instantly via 'Chat with us'. We're here to help you, every step of the way.




Remarks:
1. The screen displays and the images of the website are for reference and illustration purposes only.
2. Your eAdvice are retained up to 3 months. Monthly HIBOR-based Mortgage Plan Repayment eAdvices are retained up to 12 months. Your eStatements for other accounts (including investment services and securities accounts) are retained up to 24 months. Your eStatements for integrated accounts, HKD current accounts and HKD savings accounts are retained up to 84 months. For more details, please visit https://www.hsbc.com.hk/accounts/estatement/