Credit cards are certainly a very popular payment choice, with an average of 2 credit cards held per person. But it's something that fraudsters could take advantage of.
Credit card fraud can happen in a number of ways, such as unauthorised use in which fraudsters try to purchase goods or steal money using your credit. It could also involve lost and stolen credit cards, making fraudulent applications or transactions like online payments and mail orders.
Here are some tips to help you protect yourself from falling victim to credit card fraud.
Protecting yourself before using your card
Credit Card Fraud Alert is our way of verifying with customers whenever we detect a suspicious transaction on HSBC credit cards.
Once you receive a notification via the HSBC HK App or SMS, start by carefully verifying all the merchant details, payment amount, currency, as well as the date and time of the transaction. Then simply let us know if you're the one who made the transaction.
How does Credit Card Fraud Alert work?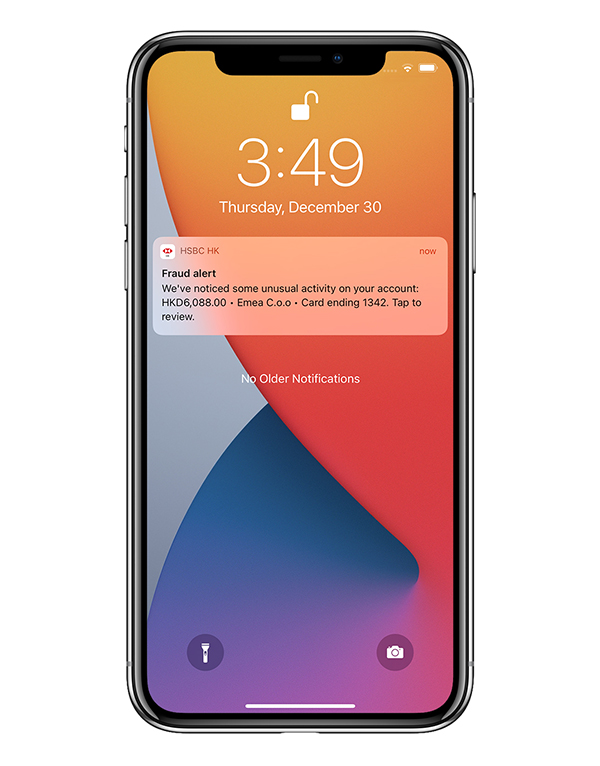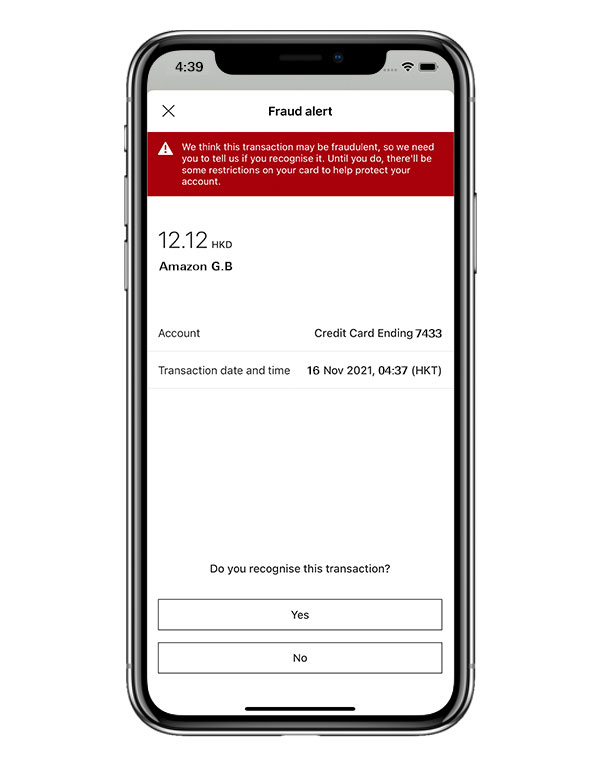 With push notifications turned on, you will be able to receive pop-up notifications telling you if we detected a suspicious transaction.
Once you tap on it, you'll be directed to the HSBC HK App where you'll see transaction details after logging on. Before responding if the transaction is genuine, you should carefully check and verify the merchant details, payment amount and currency, as well as the date and time of the transaction.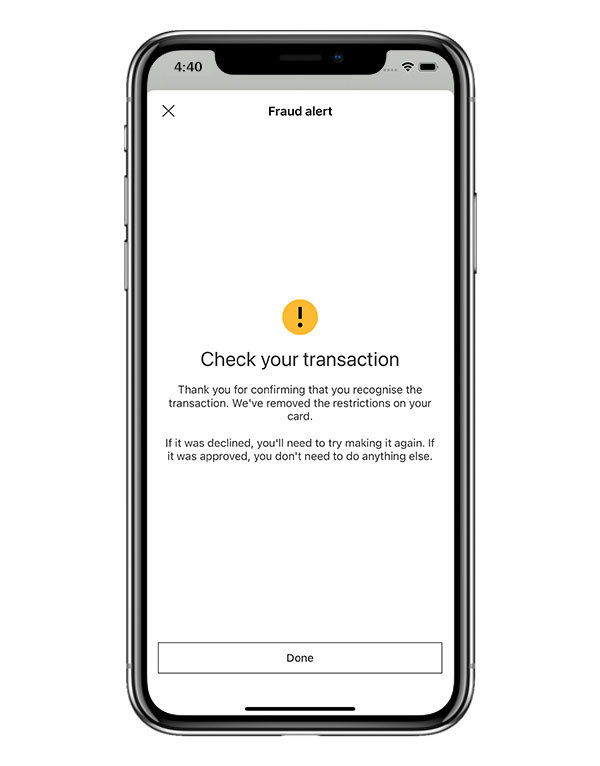 Select 'Yes' if you recognise the transaction

Then check whether the transaction is successful. On some occasions, payment may be declined due to security reasons. If that happens, you'll need to make the transaction again.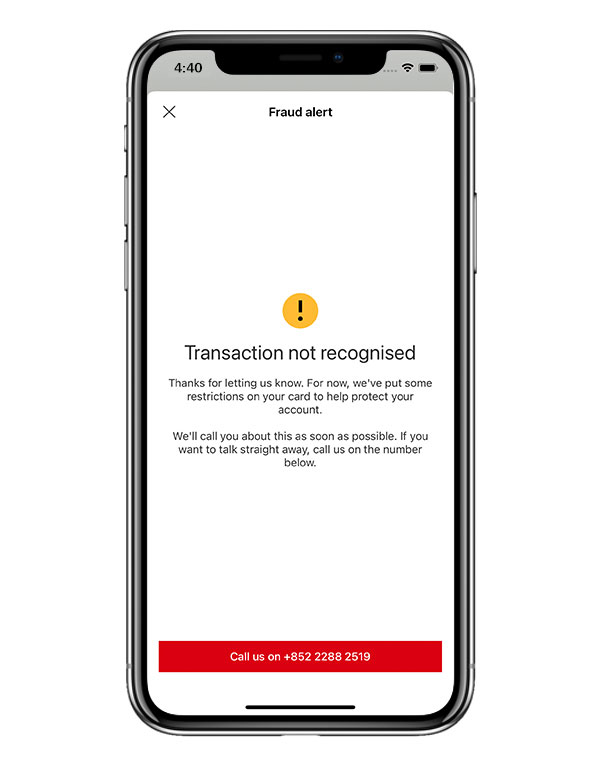 Select 'No' if you do not recognise the transaction or the details are incorrect
We'll decline the transaction and also reach out to you between 9am-10:30pm HKT to understand more about this.
You can help fight fraud too. Get in touch with us immediately via the app after you've responded with 'No'.
Start by turning on push notifications on the HSBC HK App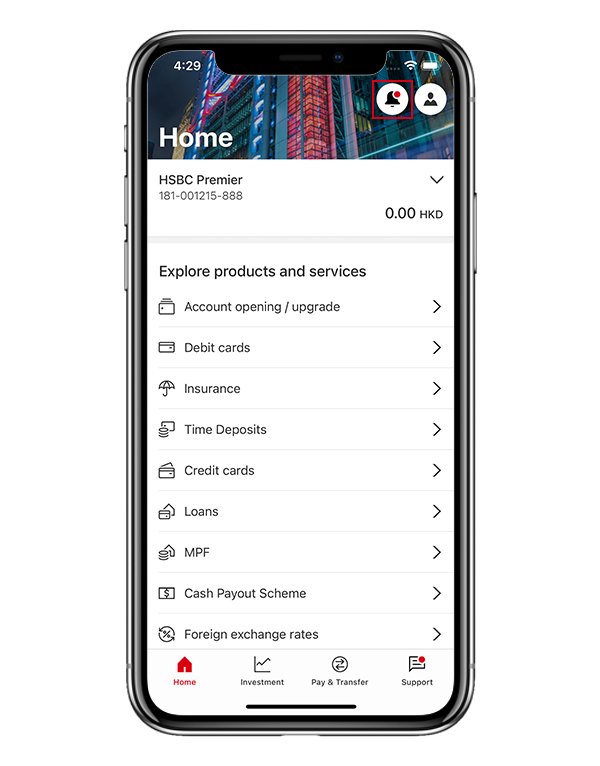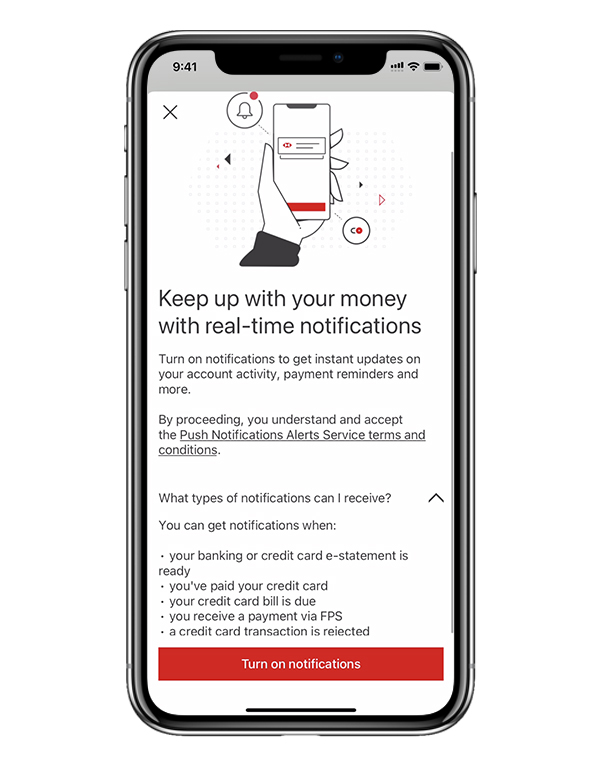 If you already have push notifications turned on, then you're all set to receive our fraud alerts. Otherwise, please follow these instructions:
Step 1: Log on to the HSBC HK App
Step 2: Tap bell icon on the top right
Step 3: Select 'Turn on notifications'
Simply follow the rest of the instructions on the app to fully set up your preferences. To understand more about Push Notifications Service Alerts, you can check out our FAQs.

Safeguarding yourself when using your card
Shop only at secure, trustworthy websites

Check that the website address starts with 'https' and that there's a padlock icon in the address bar.

Check the details in your OTP SMS

When you receive an OTP (one-time passcode) from HSBC, don't just look for the 6-digit code and rush to act—check other essential information including the merchant name, transaction time and amount so you can be sure you're authorising the correct transaction.

Review your transactions regularly

Log on to the HSBC HK Mobile Banking app regularly or review your credit card statements and the transactions in it carefully. Make sure that you recognise each transaction made.

Never disclose any sensitive personal details

Don't share your banking credentials, no matter how tempting the offer may seem. Fraudsters may impersonate real organisations and use phishing SMSes, emails, fake websites, bogus calls or malicious links to trick you into sharing sensitive information such as your credit card number, CVC/CVV number or OTPs.
Reporting suspicious activities on your card
See a transaction you don't recognise? Don't worry, you can place a temporary block on your credit card while you double-check your records or file a report with us.
Place temporary block on your credit card
If you've lost your credit card or you believe it might have been stolen or misused, you can place a temporary block on it via the HSBC HK Mobile Banking app or HSBC Online Banking. To do this, log on and choose the credit card you wish to block, then select 'Block or unblock credit card'.
You can also call our 24/7 customer service hotline to report a lost or stolen credit card, or to block/unblock your credit card.
To see how to do this, please visit the HSBC HK website > See FAQs, forms and fees & charges > Credit card support > Report lost or block your cards
If you spot any suspicious activity or unauthorised transactions on your credit cards, please call us to report them immediately.
HSBC Jade customers: (852) 2233 3033
HSBC Premier customers: (852) 2233 3322
Other personal banking customers: (852) 2233 3000
Remarks
You should ensure that your mobile phone and other telecommunications equipment and related services are capable of receiving Push Notification Alerts through push notifications.
Push notification runs on the service provided by Apple Inc. ("Apple") or Google LLC ("Google"), as applicable. Any delay or failure in delivering push notification messages due to Apple's or Google's service is beyond our control.
Apple, the Apple logo, iPhone, iPad, Touch ID and Face ID are trademarks of Apple Inc., registered in the US and other countries. App Store is a service mark of Apple Inc.
Google Play and the Google Play logo are trademarks of Google LLC. Android is a trademark of Google LLC.
The screen displays are for reference and illustration purposes only.