Pay with your HSBC card using Google PayTM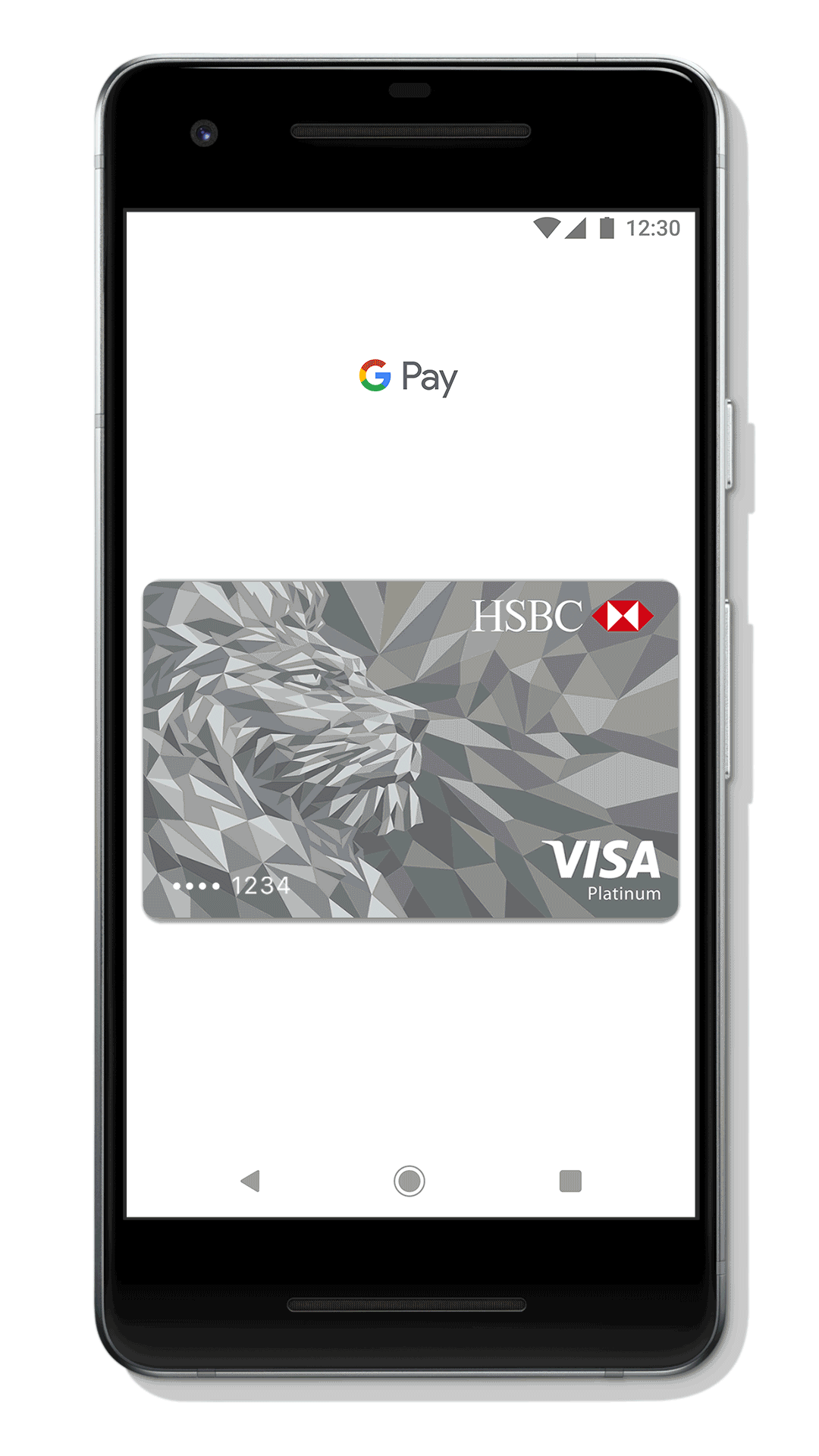 Download the Google Pay app in Google Play store and add your card to the app so to make transactions with your Android device in thousands of stores with Visa payWave or Mastercard contactless payment terminals or in participating apps.

Benefits
Google Pay is simple and it works with almost all Android devices1
Google Pay is secure because your card information isn't stored on your device or shared when you pay. For added security, you will be asked to unlock your device for certain payments from time to time
You can easily manage your Google Pay transactions. Your last 10 transactions are available in your device and all transactions will be listed on your statement
You can continue to enjoy all the benefits and rewards from your HSBC credit card

Ready to use Google Pay?
I have an eligible Android device

1

I have downloaded the latest Google Pay app

I am a cardholder with a personal HSBC HKD Visa Credit Card or Mastercard Credit Card
Don't have an HSBC credit card? Do you want to use Google Pay?

Set up is simple
You can add your credit card to Google Pay using the HSBC HK Mobile Banking app. Here's how to do just that.
Log on to the HSBC HK Mobile Banking app.
Choose the credit card you want to add.
Select 'View more', then 'Manage credit cards'.
Choose 'Add to G Pay', then agree to the disclaimer.
Complete the set up with a one-time verification code SMS.
And your HSBC credit card will be ready to use with Google Pay.
You can also add your HSBC credit card to Google Pay on the Google Pay app. Just follow these steps.
Don't have Google Pay yet? Download it from the Google Play Store.
Open the Google Pay app on your mobile device.
Select 'Add card', then 'Debit or credit card'.
Use your device's camera to capture your card details, then enter other information needed when prompted.
Complete the set up with a one-time verification code SMS.
And your HSBC debit or credit card will be ready to use with Google Pay.

* Address and card details will not be updated to our banking record.

More Information:

If you have more than one Google account, you can select which one you prefer to use when you first open the app. You can also switch accounts on the app later. Any cards you add will be specific to a combination of both your device and account. So if you switch accounts, you will have to add the card again.
You can add the same card to up to 9 device/account combinations.
The first card you add will become your default card. Payments will be made from this card unless you set another card as the default. You can change your default card any time – simply select another card and tap 'Make default for contactless'.
You can also remove a card from Google Pay any time – just select the card and tap 'Remove payment method'.
Add your card to Google Pay
To borrow or not to borrow? Borrow only if you can repay!
Remarks
Google Pay, Google Play and the Google Play logo are trademarks of Google Inc.
*Google Pay does all the same things Android Pay did with new app designs. If you are already using Android Pay, you don't need to do anything to get started with Google Pay. The next time you update your Android Pay app, it'll become Google Pay. All of the information you've added and your Android Pay settings will be the same on Google Pay. Android Pay or Google Pay are used interchangeably in customer communications including SMS, email, letter, credit card statement, etc.
1Google Pay works with most NFC capable Android devices running Android 4.4 (KitKat) or higher.