Making life easier with Express Banking
Banking, wherever and whenever you need it.
Buy single trip travel insurance, redraw personal instalment loans and more at our ATMs
Deposit cash instantly at our Cash Deposit Machines
Pay in cheques and get a full record of the deposit, including an image of your cheque on the advice slip
Update HKD or CombiNations savings accounts passbooks
Generate or reset your ATM or credit card PIN
New Customer Advice [PDF] will be introduced in all ATMs and Cash Deposit Machines, which shows transaction details in a more organised way for verification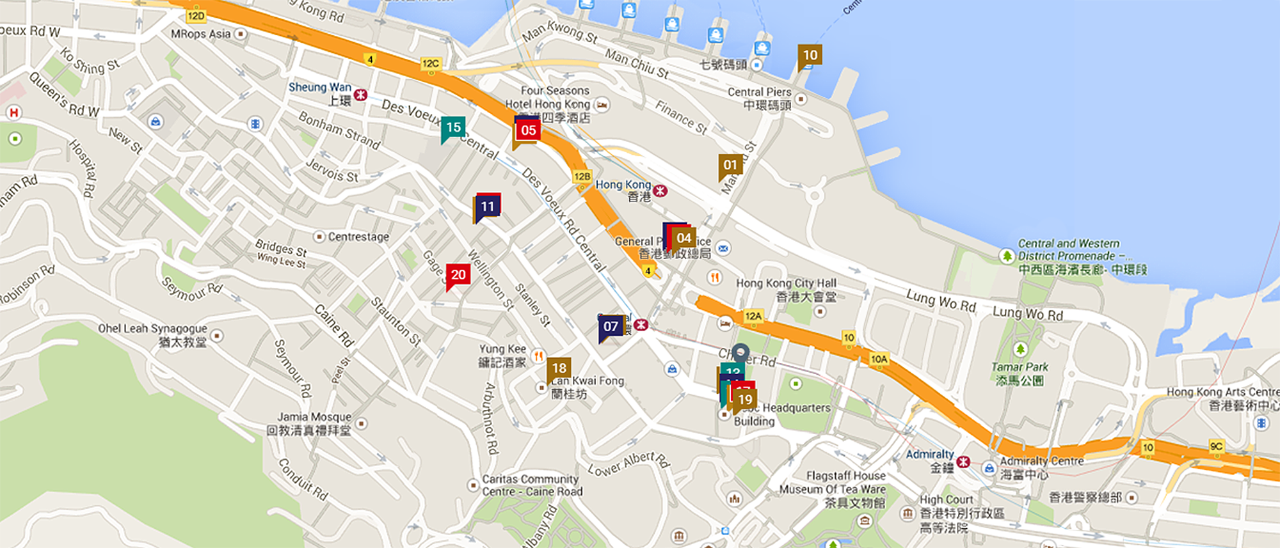 Find the nearest ATM, Express Banking facility or counter service. Enter your location and service type and select the symbol to see opening hours and contact details.

Automated Teller Machine (ATM)
Automated Teller Machines (ATM)
Manage up to three HSBC accounts on one card; transfer up to the available balance of these accounts
Withdraw up to HKD80,000 per day. Please click here [PDF] for more information.
To strengthen security controls for ATM services, the overseas ATM daily withdrawal limit (including cash advance) is pre-set to zero.
Withdraw up to HKD20,000 per day on credit card (cash advance) or up to your credit limit, whichever is lower
Up to HKD400,000 daily transfer limit1 to non-registered accounts
The daily limit for Payment by Phone Service (PPS) is HKD100,000 per card
The daily limit for Purchase via EPS or UnionPay is HKD50,000 per card
A shortcut of HKD cash withdrawal function2 is available for you to withdraw the same amount of cash from the same debit account as in the most recent HKD withdrawal transaction
1 The maximum daily transfer limit is HKD400,000. This limit is shared by all the available channels (the respective maximum sub-limit for local ATM and Personal Internet Banking is HKD400,000, and for overseas ATM and phone banking is HKD50,000. Please click here [PDF]. for more information).
2 It is only applicable to local HSBC personal ATM cards and credit cards (linked with more than one personal accounts) and available at all local HSBC ATMs.
Scope of Services
Buy single trip travel insurance
Redraw personal instalment loan
Withdraw cash
Transfer
Account enquiry
Credit card account enquiry
Credit card repayment
Cash advance
Bill payment
Charity donation
Change PIN
Request account statement
Request cheque book
Reset phone banking PIN
Activate phone banking
MPF account enquiry
Change language
Close account
Deposit
Set overseas withdrawal limit (including cash advance)
Voice Navigation Enabled (ATM)
Support Voice Navigation for basic ATM transaction:
- Cash withdrawal
- Balance enquiry
- Transfer
- Change PIN
Find Voice Navigation Enabled ATMs
- Select "Voice Navigation Enabled (ATM)" service under the "More search options" of Branch and Express Banking Locator


Easy ATM Services
Accessible, simplified ATM services for basic transactions.
Cash withdrawal

Transfer
Change password
Balance enquiry
Cash deposit machines
Deposit up to 150 notes each transaction
Daily maximum deposit HKD 100,000
Accepts denominations of HK$100, HK$500 and HK$1,000
Real time credit to bank account
No PIN required
Verifies account name, number and amount before confirming transaction
Notes:
Customers can make cash deposit transactions at cash deposit machines of HSBC Group in Hong Kong (including Hang Seng Bank).
Multi-function machines
These perform the same functions as an ATM and cash deposit machine (with deposit up to 100 notes each transaction) combined, with the exception of the envelope deposit service.
Notes:
Customers can make cash deposit transactions at multi-function machines of HSBC Group in Hong Kong (including Hang Seng Bank).
Cheque deposit machines
Deposit up to 30 cheques at once
Comprehensive advice includes cheque image, cheque amount and deposit account name3
Accepts local clearing HKD and USD cheques
Access accounts using either card or account number
Account credited instantly 4

Some machines available 24/7 – instant credit deadline extended in these machines to 5.30pm Monday to Friday
Clearing takes the same time as counter deposits
3 With the exception of USD cheques.
4 Hong Kong dollar cheques (except USD Cheques) deposited before 4:30pm on Mondays to Thursdays and 5:00pm on Fridays are shown in your account instantly. To provide better service, cheque deposit machines in selected locations are available 24 hours a day, 7 days a week. The cutoff time of these machines has been extended to 5.30pm Mondays to Fridays. Funds will be available after clearing, just in the same time and manner as the cheque deposited over the counter.
Passbook update machines
Update HKD or CombiNations savings accounts passbooks.

User guides
ATM cards
Gives you access to a range of self-service machines 24 hours a day including services such as withdrawing cash, checking balances, transferring funds, resetting PINs and requesting statements.
Additional resources
ATM PIN generator
Generate or reset a PIN with the instant PIN generator handset.
Overseas ATM withdrawal
As the travel season is coming up, we'd like to provide you with some tips on using overseas ATM cash withdrawal services.