Unlock your true wellness
Wellness encompasses your body, money and mind. With Well+, our wellness reward programme, you can nurture all 3 aspects of your well-being and have fun doing it. Earn up to $2,000 RewardCash1 just by completing simple activities for all 3 badges at each level.
What's more? Earn RewardCash through everyday banking and boost your financial well-being through the Well+ Bonus Badge and exclusive offers.
Join now on the HSBC HK Mobile Banking app, for free.
Earn all 3 wellness badges
Body
Get fitter by meeting step or workout goals, discover tips for building healthier habits, and more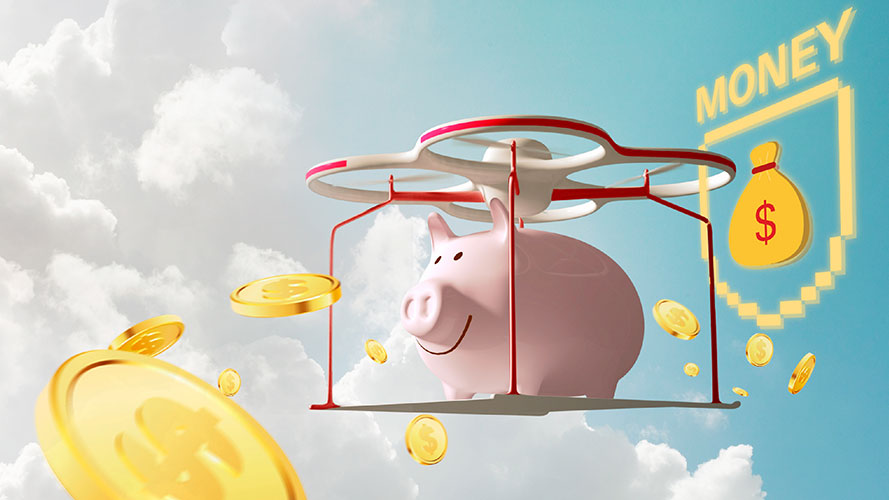 Money
Whip your finances into shape by exploring our tips for building financial resilience, insurance knowledge and more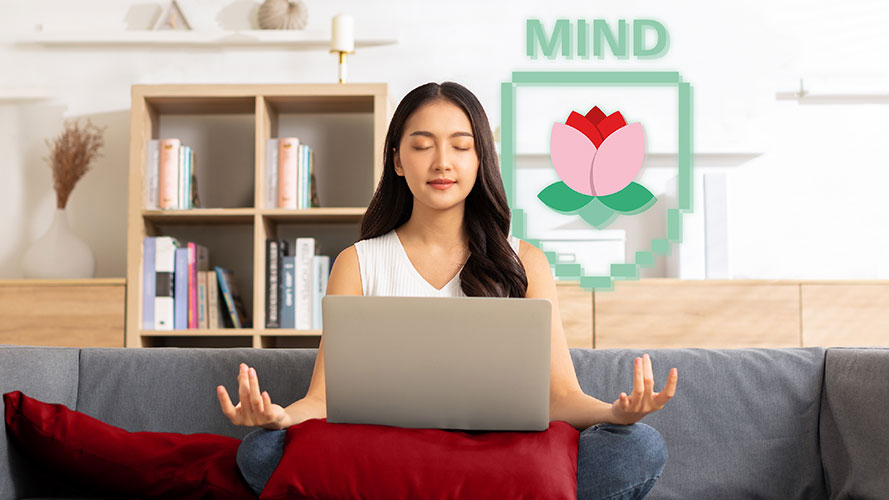 Mind
See our tips on nurturing your mindset, complete quizzes and stay on track with mindfulness goals
Get extra rewards and exclusive offers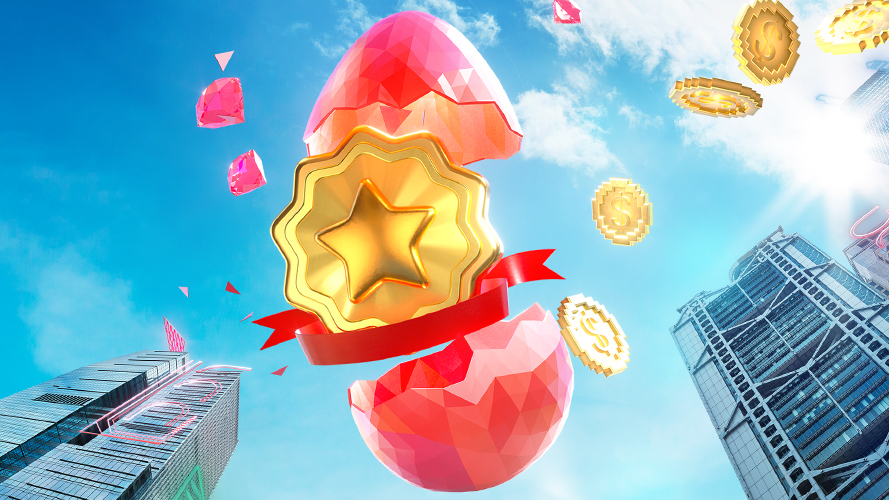 Well+ Bonus Badge
By completing designated financial activities, you can benefit your financial well-being and earn exciting rewards through everyday banking!
"Get Insured Online Challenge"
Earn 100 RewardCash by joining this challenge and taking out an HSBC insurance plan online. What's more, if you are a new to HSBC Life customer2, you can earn an extra 100 RewardCash! Offer ends 31 December 2023. T&Cs apply.
"Grow your wealth" challenge

Earn RewardCash when your Total Relationship Balance3 (TRB) increases to a specified amount monthly

"Know your risk profile" challenge (for selected customers)4
Co

mplete the Risk Profile Questionnaire in 2 minutes, and unlock RewardCash



"Open an Investment Account" Challenge5
Open an integrated Investment account in a few simple steps to unlock RewardCash

Learn more at HSBC HK Mobile Banking app > Well+.
Exclusive offers
Don't miss out on offers only available on Well+ on insurance plans and banking products. Learn more at HSBC HK Mobile app > Well+ > 'You Might Also Like' > 'Offers'.
Also, enjoy up to 15% off on various health and wellbeing services provided by our third-party partner at the HSBC Life Para-Medical Center with your well+ membership6. T&Cs apply. Learn more >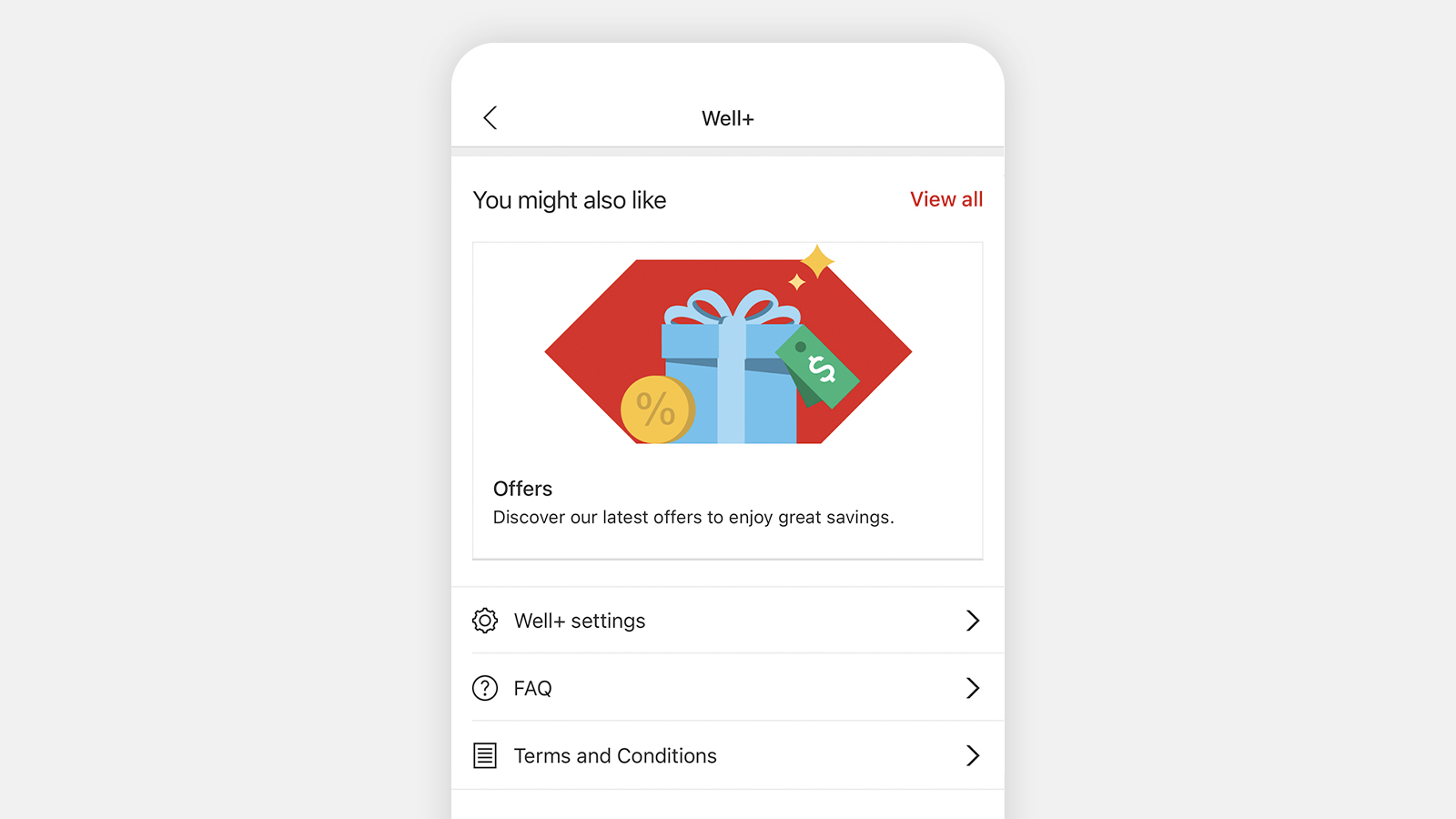 Join Well+ in just a few steps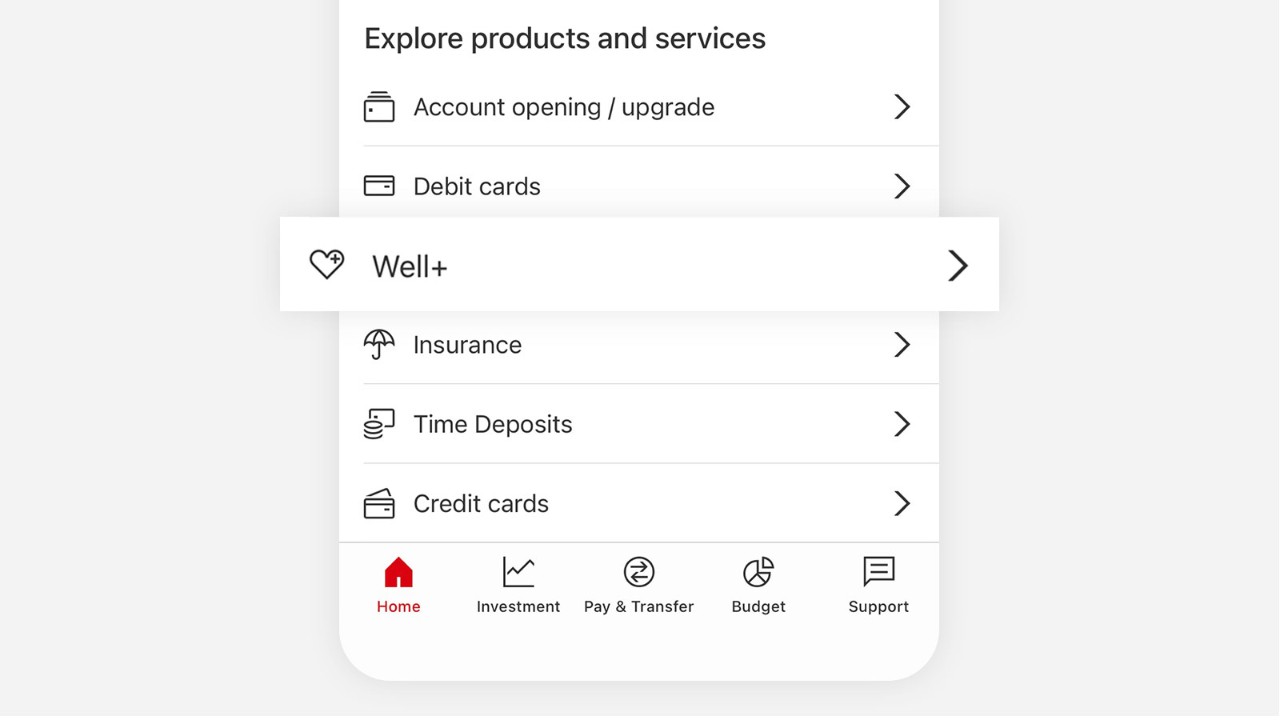 Log on to the HSBC HK Mobile Banking app. Under 'Explore products and services', choose 'Well+'.
Step 2: Select 'Join now'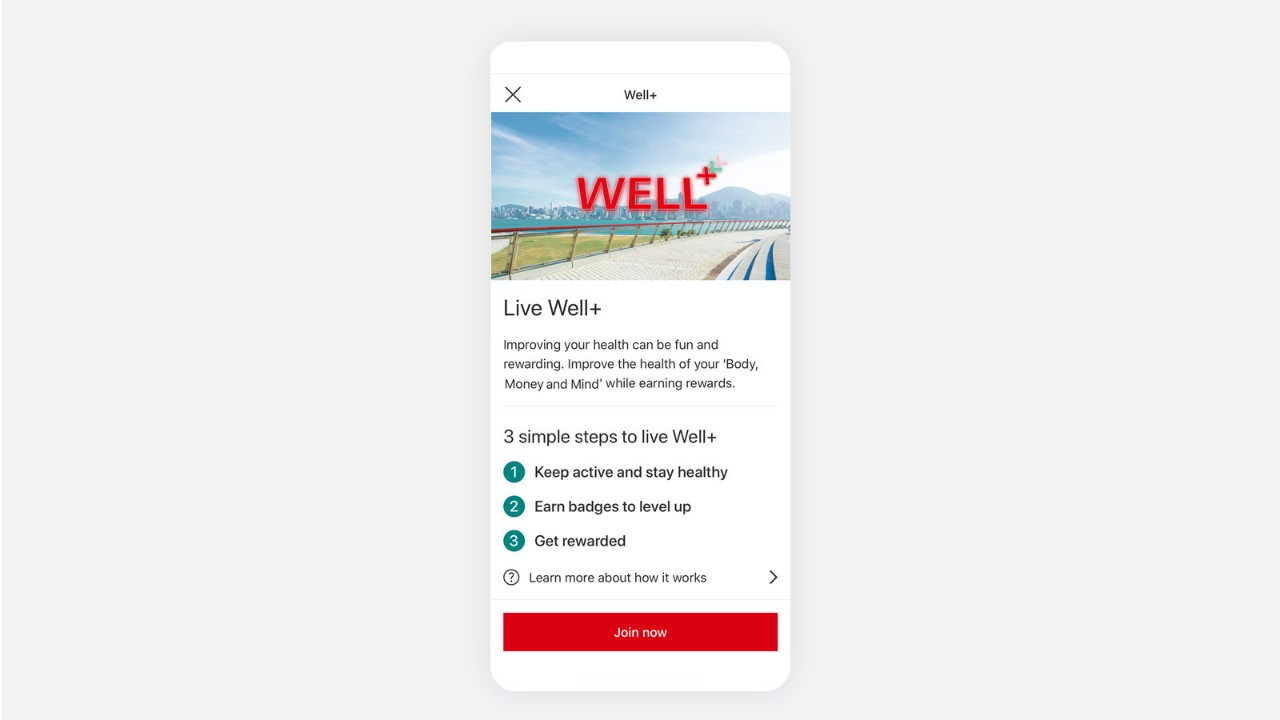 Press 'Join now'. Agree to the Well+ Terms and Conditions, and the Data Privacy Notice, then let us know your direct marketing preferences.
Step 3: Start your Well+ journey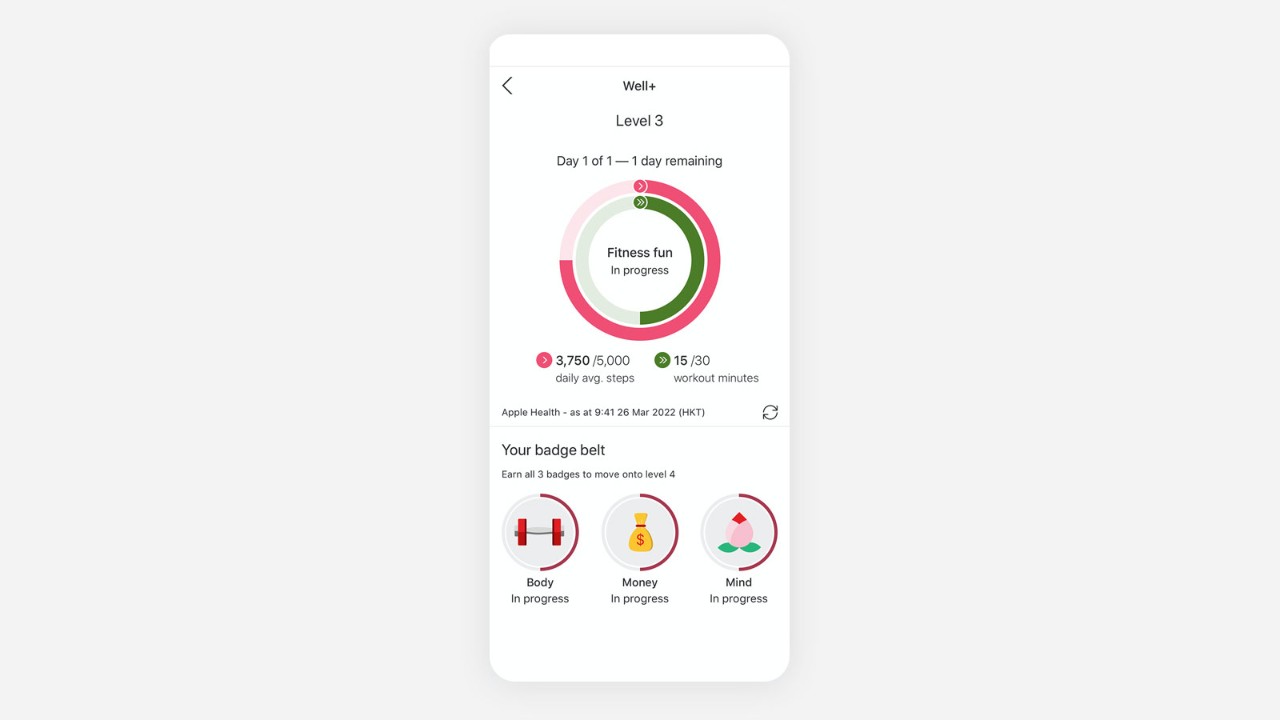 You're all set to start improving your wellness and be rewarded for it!
What you'll need
To join Well+, you'll need to:
be registered for mobile banking on the HSBC HK Mobile Banking app
have the Apple Health app if you're on an iOS device; or the Fitbit, Garmin Connect or Google Fit app if you're on an Android device
Got questions?
Go to 'Support' on the HSBC HK Mobile Banking app, then select 'Chat with us'. One of our service agents will be happy to help you.
What do I have to do at each level to earn rewards?
Is there a deadline for me to complete the activities and earn badges?
What will happen to my RewardCash if I don't have a valid HSBC credit card?
How and when can I receive my RewardCash?
Do I need a fitness tracking device or wearable for Well+?
How can I earn up to $2,000 RewardCash via Well+?
I'm already an Earn Your Watch member. Can I earn rewards from both Earn Your Watch and Well+?
For more frequently asked questions, please log on to the HSBC HK Mobile Banking app. Go to 'Well+' and select 'FAQ'.

Fitbit is/are registered trademark(s) or trademark(s) of Fitbit LLC and/or its affiliates in the United States and other countries.
Google Fit is a trademark of Google LLC.
For the potential earnings of up to $2,000 RewardCash, it is applicable to customers who are holding an in-force HSBC Life insurance policy only. Please refer to relevant terms and conditions and FAQs on this webpage and on the "HSBC Mobile Banking" app for details.
A new to HSBC Life customer is someone who does not hold any in-force HSBC Life individual life insurance plans on the day they tap 'Get started' in this 'Challenge'. For details, please go to our website and select 'Well+' under 'Insurance' or go to the HSBC HK Mobile Banking app, for the Well+ Terms & Conditions.

For more details, please refer to the 'Total Relationship Balance' definition. Subject to Terms and Conditions.
Only applicable to Well+ members who do not hold any valid "Risk Profiling Questionnaire" records with the Bank. Subject to additional Terms and Conditions.
Only applicable to Well+ members who do not hold any valid HSBC investment account with the Bank. Subject to additional Terms and Conditions.
HSBC Life (International) Limited ("HSBC Life") is not a service provider of the health or medical services listed above. HSBC Life assumes no liability for the quality of the services provided by Raffles who is a third-party service provider, or any direct or indirect consequences following the vaccination, including whether you are contraindicated to receive the vaccine or whether the vaccine causes discomfort or adverse reactions.
Disclaimer
The Well+ programme ("Programme") is co-branded by HSBC Life (International) Limited, incorporated in Bermuda with limited liability ("HSBC Life") and The Hongkong and Shanghai Banking Corporation Limited, incorporated in the Hong Kong Special Administrative Region ("Hong Kong SAR") with limited liability ("HSBC"), and is provided in Hong Kong SAR only.
To be eligible to join the Programme, you are required to maintain your status as a valid "HSBC HK Mobile Banking" app user throughout the duration of the Programme; and your Well+ membership has not been cancelled or been terminated previously. App user is applicable to Hong Kong Residents only, not including MPF or Pension only customers .

Terms and conditions apply on the Programme. You should not read information shown on this webpage alone but should always refer to the full and most up-to-date version of these terms and conditions, which are available on this Well+ webpage and on the "HSBC HK Mobile Banking" app. You should periodically check these terms and conditions and any other applicable documents relevant to the Programme.

HSBC and HSBC Life reserve the right to cancel or terminate the Well+ membership if customer cannot fulfill the eligibility requirements as set out in the terms and conditions.

Life insurance plans are underwritten by HSBC Life which are authorised and regulated by the Insurance Authority (IA) of the Hong Kong SAR, and are intended only for sale in the Hong Kong SAR. HSBC is registered in accordance with the Insurance Ordinance (Cap. 41 of the Laws of Hong Kong) as an agency of HSBC Life for the distribution of life insurance products in the HKSAR. Policyholders will be subject to the credit risk of HSBC Life and your premiums paid will form part of HSBC Life's assets. You do not have any rights or ownership over any of these assets. Your recourse is against HSBC Life only.

In respect of an eligible dispute (as defined in the Terms of Reference for the Financial Dispute Resolution Centre in relation to the Financial Dispute Resolution Scheme) arising between HSBC and you out of the selling process or processing of the related transaction, HSBC is required to enter into a Financial Dispute Resolution Scheme process with you; however, any dispute over the contractual terms of the above insurance product should be resolved between HSBC Life and you directly. Please refer to the respective product brochure for detailed features and the policy provisions for the detailed terms and conditions.
The information shown in this website is neither a recommendation, an offer, nor a solicitation for any investment product or service. Investment involves risk. You should carefully consider whether any investment product or service is appropriate for you in view of your personal circumstances. Past performance is no guide to future performance. Investors should refer to the individual product explanatory memorandum or offering document for further details and risks involved. The price of investment products may move up or down. Losses may be incurred as well as profits made as a result of buying and selling investment products.
The information contained on this website is intended for Hong Kong residents only and should not be construed as a distribution, an offer to sell, or a solicitation to buy any securities in any jurisdiction where such activities would be unlawful under the laws of such jurisdiction, in particular the United States of America.