At HSBC, we're always working to fight fraud and ensure the security of your funds and data. If we notice any suspicious activity on your account, we will reach out to you for clarification. Be assured that no matter why we contact you, we'll never ask you to provide sensitive information such as account log on credentials and passwords.
You can help fight fraud, too, by reporting any suspicious communications or account activity. If you believe you are a victim of any fraudulent activity, report it to us immediately. Telling us as soon as possible will help minimise the impact on you and your credit record.

What problem have you encountered?
What to do if you don't recognise a transaction on your statement
It's not necessarily a scam. There might be another reason for a charge you don't recognise. Check out our transaction dispute page to find out why the charge might look strange to you.
If you are still unsure about a transaction, please contact the concerning merchants, followed by reaching out to us.

If the problem remains unsolved and you suspect that the charge is fraudulent, please contact us immediately.
Reporting and enquiry hotline:
HSBC Jade:(852) 2233 3033
HSBC Premier:(852) 2233 3322
All other customers:(852) 2233 3000
Alternatively, you can email us at csv@hsbc.com.hk to report a problem.
What to do if you get an SMS alert from HSBC - and how to tell if it's genuine
Your credit card security is important to us. We're committed to enhancing our fraud detection system, and we're always looking for the best ways to protect you from fraud.
So if we detect a suspicious transaction on your card, we'll send you an SMS alert.
Here's what to do if you receive one of these alerts, and how to check that the message is from us and not a fraudster.
What is 2 Way SMS?
The purpose of this message is to confirm whether a transaction is genuine or not.

If you receive an SMS, just answer "Y" or "Yes" if you made the payment or "N" or "No" if you didn't.

Please don't share any sensitive personal information when replying to us.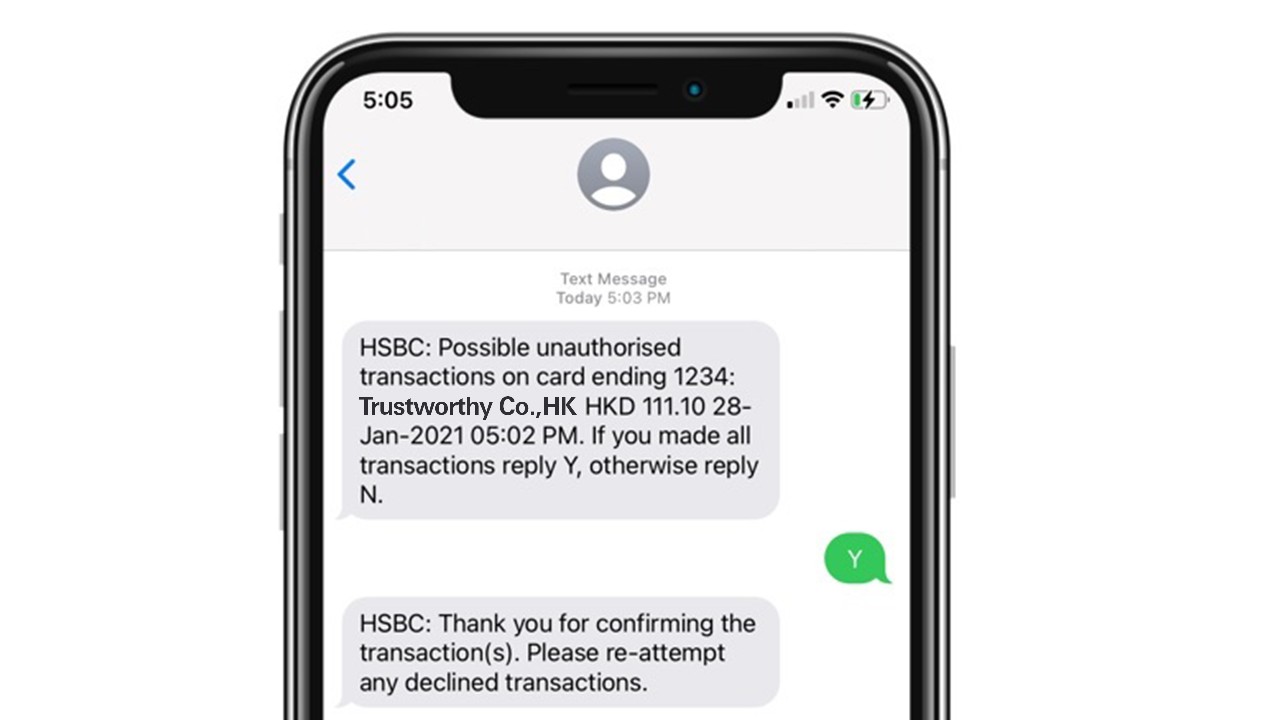 Reply "Y' or "Yes"
If you made the payment and you're sure the transaction is genuine, reply "Y" or "Yes".

Carefully check the merchant details, amount and currency, as well as the date and time of the transaction, before replying.

After replying, please check to see if the transaction has been completed. It may have been declined for security reasons, in which case you'll need to make the transaction again.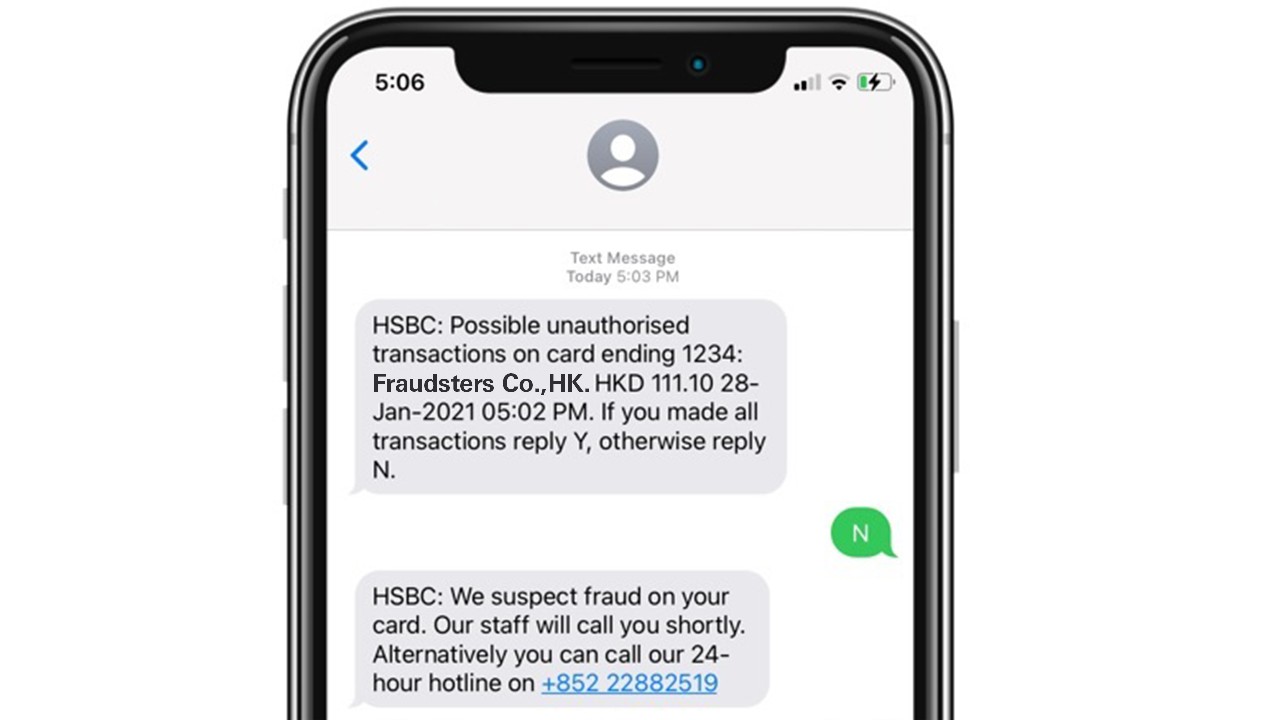 Reply "N" or "No"
If you don't recognise the transaction, reply "N" or "No". The transaction will be declined.

We'll get in touch with you to understand more details about the transaction during business hours (09:00-22:30, daily).