Making transfers is now faster and easier than ever
Faster Payment System (FPS):
Easy to use

Pay/ receive via a mobile number, email address, FPS Identifier, or by scanning a QR code

Receive payment via HKID

Receive payments and transfers from institutions, corporates and the HKSAR government

24/7 Instant payment

Make instant transfers anytime and anywhere

Free

No charges for local transfers made in HKD and RMB

Across different platforms

Make payments online or on the go to any participating banks and payment service providers

No need to issue cheques or carry cash

Advance transaction date for up to 45 days – no more missed payments; you can also view and delete the future dated transactions

With HSBC HK Mobile Banking app, you can pay people or merchants by scanning a QR code, or receive a payment by showing your own QR code

For US dollars and Euro domestic payments to other local banks, you need to make a transfer via the payee's account number and we will send the money via Real Time Gross Settlement (RTGS)*
Move money now
If you are not already registered for Personal Internet Banking, you will be prompted to register when you click the button above.
Top up HSBC accounts via eDDA
Supported by FPS, you can top up your HSBC accounts by transferring funds in directly from your other bank accounts maintained at selected local banks anytime through HSBC Online or Mobile Banking.

One-time set up of an account top-up instruction to link your respective same-name accounts via eDDA. You can then top up your HSBC accounts thereafter.

Transfer up to HKD10,000 or RMB10,000 per account top-up instruction and up to HKD100,000 (or its RMB equivalent) per day with the 'Top up HSBC accounts via eDDA' service.
How to register and use FPS
Using HSBC HK Mobile Banking app
Step 1: Log on and tap on the Profile tab on the top right then select 'Pay and transfer'.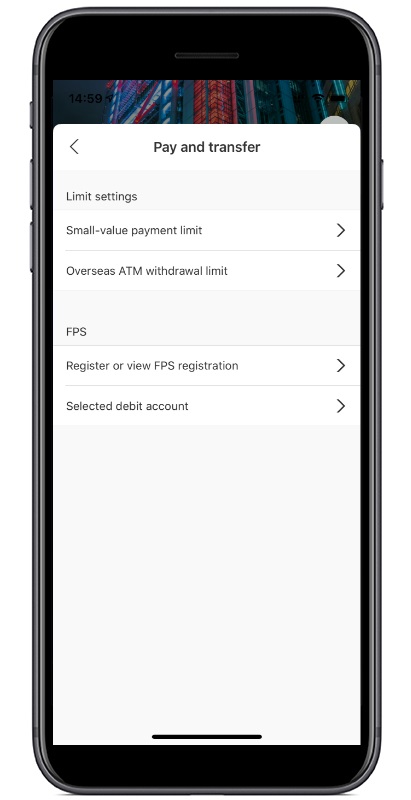 Step 2: Then find 'Register or view FPS registration'.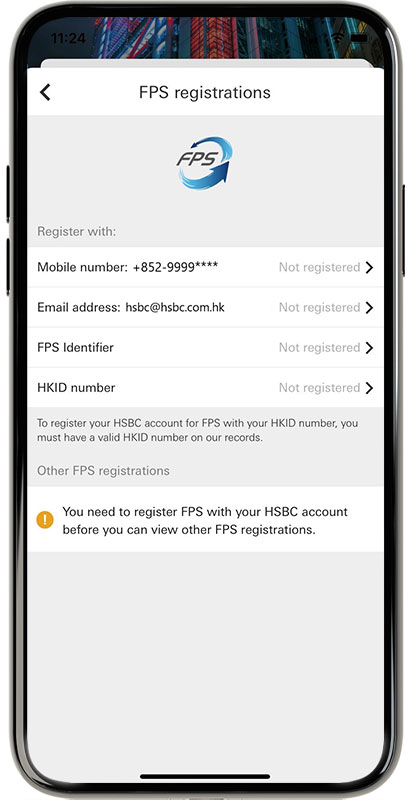 Step 3: Choose a Proxy ID to receive money: Choose between your mobile number, email address, FPS Identifier or HKID - or go for all 4 so you can be more easily found for fund transfers!
We will prefill some details based on your bank records. You can update them at any time.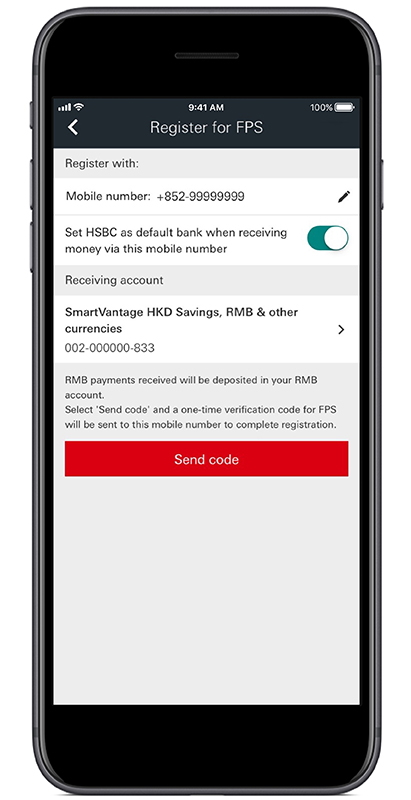 Step 4: Choose an account to receive payments sent to this Proxy ID. Select 'Send code' to receive a one-time verification code. We'll send it to the mobile number or email address you've registered with (registrations by FPS Identifier don't need to be verified).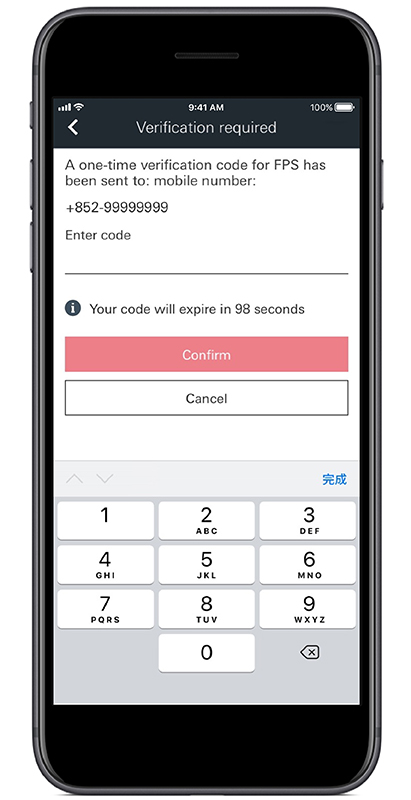 Step 5: Enter your one-time verification code (you won't see this screen if you register with an FPS Identifier).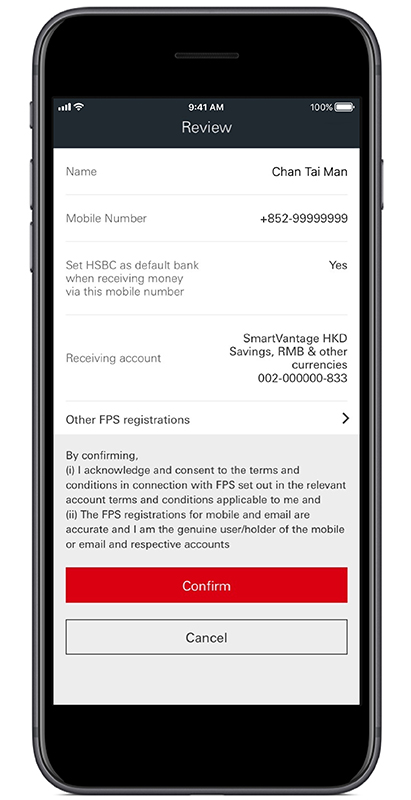 Step 6: Select 'Other FPS registrations' to see if you have registered your Proxy ID anywhere else, and please remove registrations that do not belong to you, otherwise you will have problems with receiving money.
Verify your details and then select 'Confirm' to complete your registration.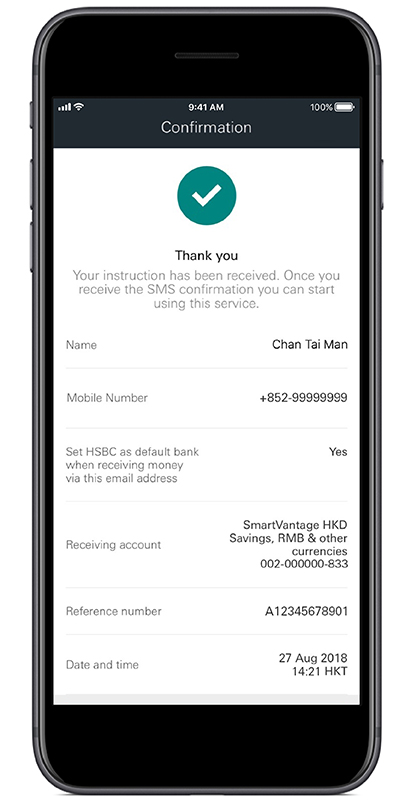 Step 7: You are now registered with FPS. If you register with your mobile number you will receive an SMS confirmation. If you choose to register with your email address, HKID or FPS Identifier, we'll send you an email confirmation after you're done. You can also check your FPS registration status in 'Register or view FPS registrations'.

How to send money with FPS
Make FPS in-app payment with HSBC
Using HSBC Online Banking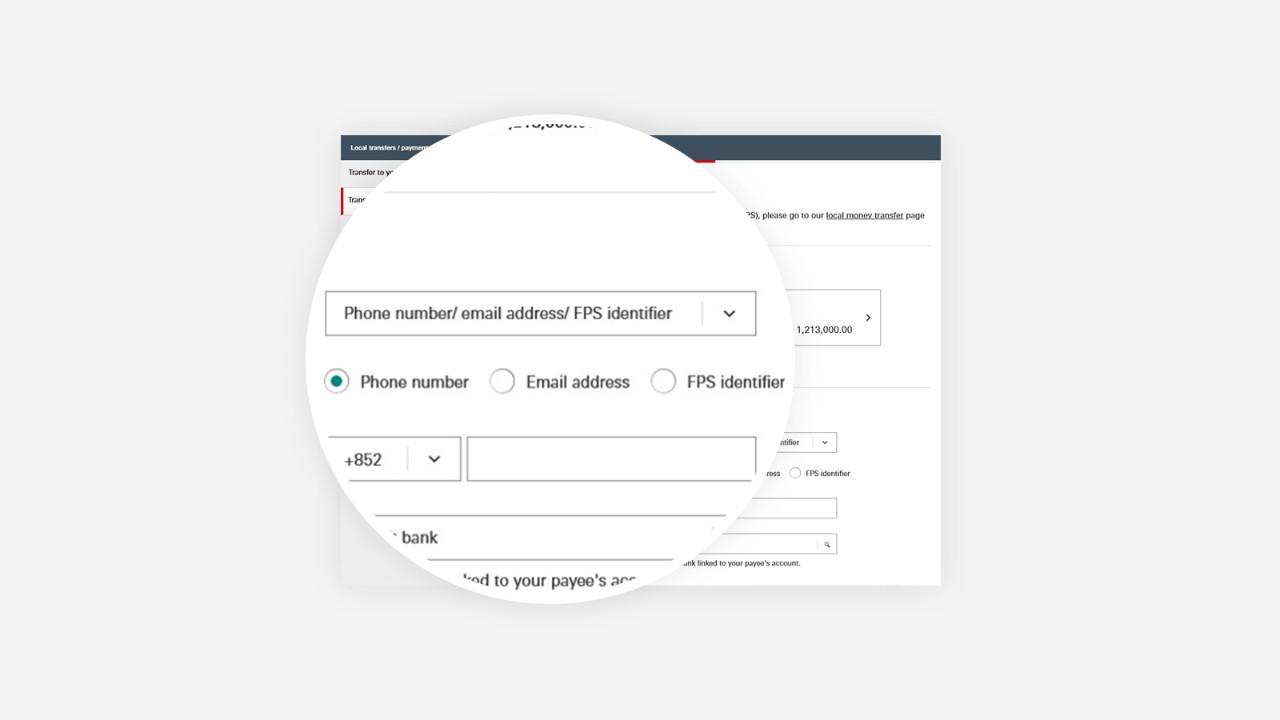 Step 1: Log on to HSBC Online Banking and go to 'My banking' and select 'Pay or transfer'. Then choose 'Transfer to other local payees / FPS'.
Choose the account you want to send money from, then choose 'Pay someone new' to make a transfer to an unregistered payee. Under 'Payment type', select 'Phone number/ email address/ FPS identifier', and then choose your preferred FPS proxy ID. Enter the proxy ID details and check the box to add this payee to your payee list if preferred.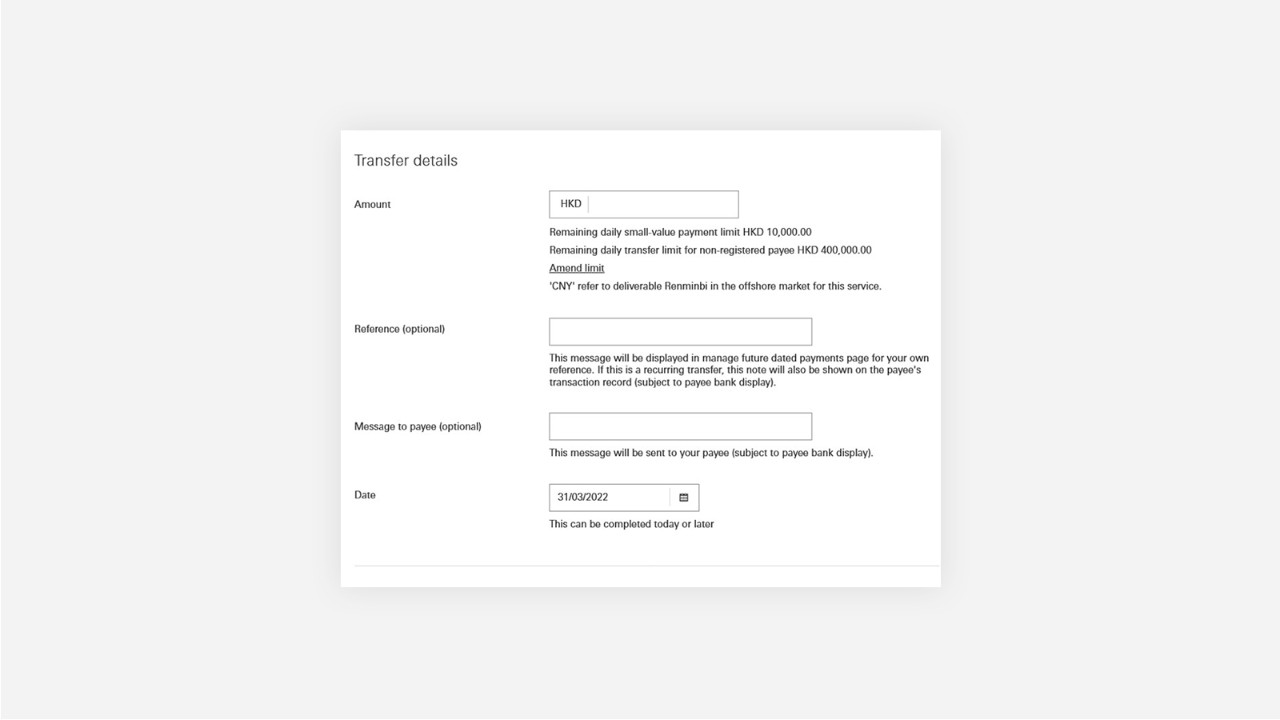 Step 2: Enter the payment amount and set the transfer date. You can also add a message to your payee. Read and acknowledge the important information and disclaimer, then select 'Continue'.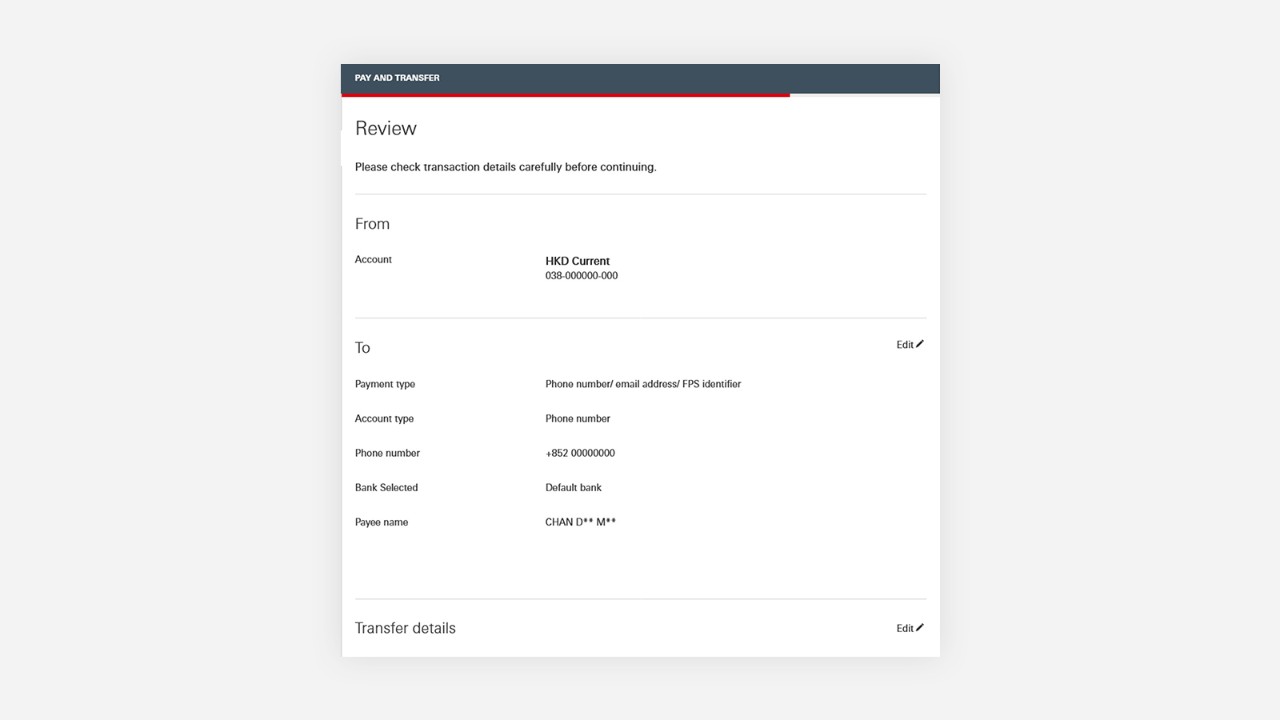 Step 3: Review the payee's name and the transaction details. You may be asked to provide a transaction signing code. Simply enter the code by following the instructions on the page. Check that all transaction details are correct before you select 'Confirm'.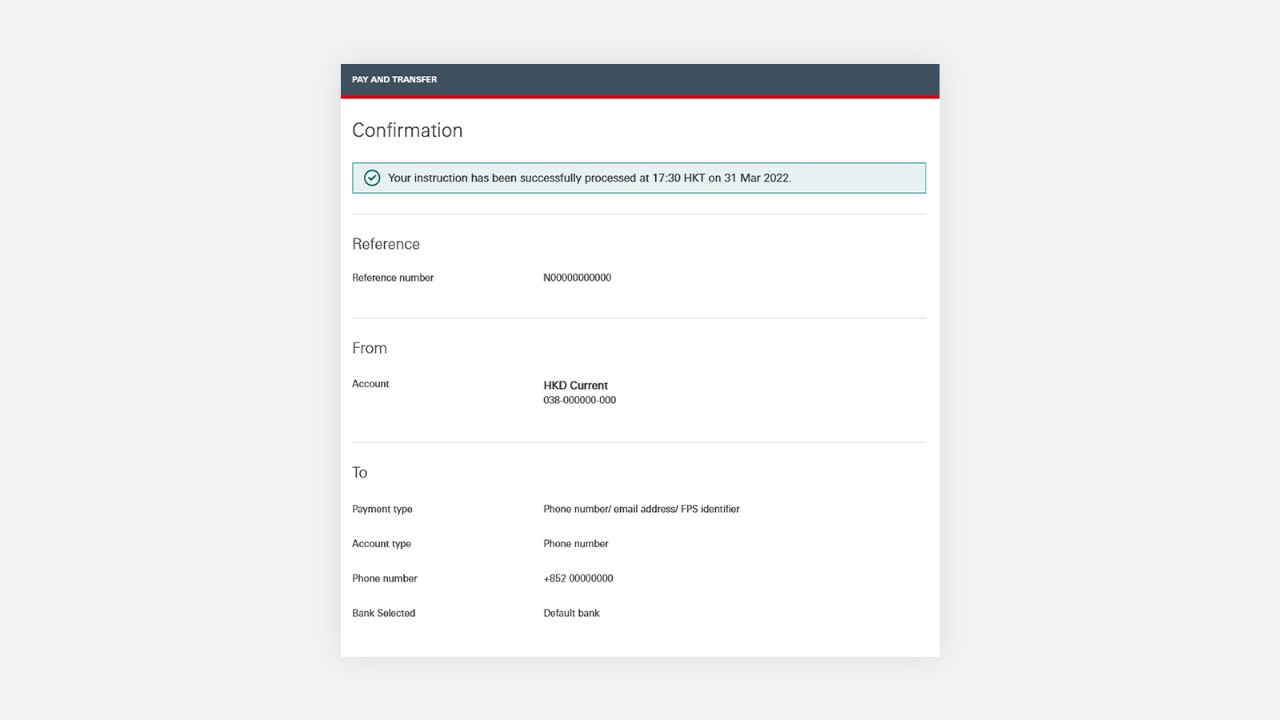 Step 4: Your transfer is complete. You can print a copy of the receipt or make another payment.

Make Quick Transfers with FPS
How to use 'Top up HSBC accounts via eDDA' service?