About the service
Hong Kong has one of the world's longest life expectancies. Over 30% of our population is aged over 65.
The banking sector has an important role to play in delivering services that cater to elderly customer needs and help them and their families prepare for their financial future.
HSBC is committed to caring for the elderly by promoting 'age-friendliness'. We have a range of tailored products, services and brochures to ensure that customers of all ages are able to access our banking services, stay vigilant about financial crime and be aware of the legal options available to support them in the years ahead.
Dementia Friendly Banking
Banking made age-friendly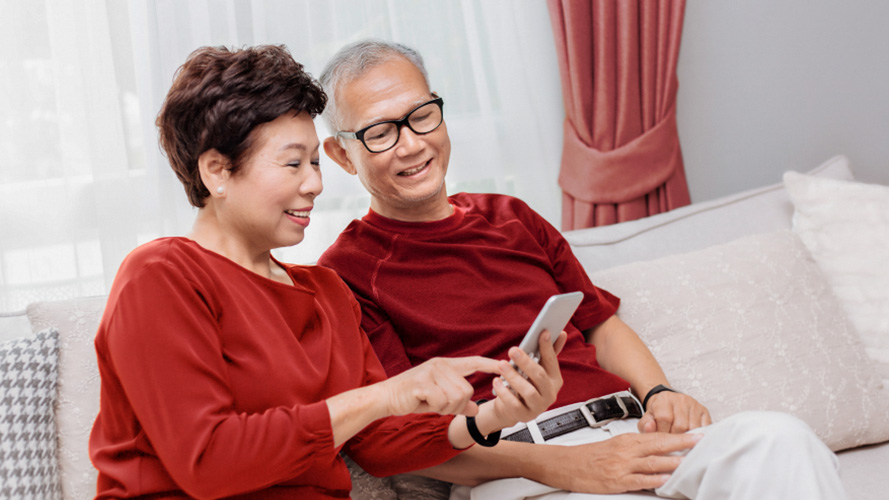 HSBC HK App - Lite Mode
Simpler and easier-to-use interface with clearer and larger font size and icons for your day-to-day banking needs.
Our Age-friendly Banking brochures
To help you bank with confidence and plan for a secure financial future, we've got three handy guides to age-friendly banking.
The booklets are available in electronic format or hard copies in any of our branches.
Banking with us simpler and faster
Community Care Counter

Provides you with express counter service. In some of our branches we are able to open up additional counters, or offer you a counter with seat, a meeting room or a cubicle to help you with your transactions and other services

Dementia Friends Ambassadors

In collaboration with the Hong Kong Alzheimer's Disease Association, we have trained Dementia Friends Ambassadors at our branches to assist customers and families living with Dementia.

Smart Seniors

We also have Community Care Ambassadors and Smart Seniors stationed in every HSBC branch. They are trained in providing support to different customers in need. If you are having any difficulty in using our banking services, please seek out one of our Smart Seniors for assistance.
Easy ATM

Provides you with larger fonts, more graphics and simpler work processes when using our ATMs.

Voice ID

Uses advanced voice biometric technology to verify your identity with your unique voice. You are no longer required to use your phone banking PIN, which makes phone banking safer than ever.

HSBC Mobile Branch

Helps us to serve the wider community by extending our service network to designated locations around Hong Kong. It provides a range of banking services from cash withdrawal, cash deposit, passbook update, funds transfer and more. Click

here

for the locations and service hours of the Mobile Branch.
Visit any of our branches
Connect to Live Chat on Personal Internet Banking